WP Ultimate PDF Generator
Get a bonus WordPress plugin with your purchase of WP Ultimate PDF Generator
BUY WITH BONUS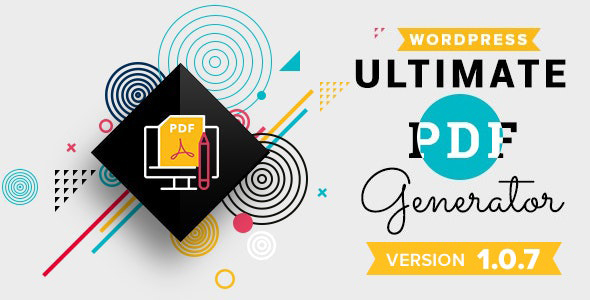 WP Ultimate PDF Generator is a plugin that permits users to download posts, pages, products, and custom posts into PDF. These PDFs can also be printed or sent to a registered email address as per the need.
Are You In A Search Of WordPress PDF Creator?
Do you have great content that the audience love to consume? If yes, then they might want to keep it with them to read later. This is where this WordPress PDF generator plugin comes in.
It facilitates your users to convert WordPress pages to PDF files to read it later whenever and wherever they want. This eliminates the hassle of browsing for that particular page again.
Hold on, you also get the ability to promote your brand on those PDF files. You can use your brand name, logo, watermark, etc. to be displayed on the PDF. This makes readers remember your brand and get back to you again for more resources.
Personalized Cover Page To Promote Brand
A highly requested feature from our clients. Now they can add a personalized cover page that allows users to portray and promote their brand in a beautiful way. Users can put their brand name, logo, change its size, margin, etc. on the cover page to display it as they like.
Four New Cover Page Templates
Another new feature that has a high demand. We've introduced 4 new cover page templates for different industries to allow admins to make customizable templates for PDF according to their working fields. This makes easy to design PDF layout and maintain symmetry among different pages.
Why You Should Go For WP Ultimate PDF Generator?
The answer lies within the benefits of this plugin. First of all, the major benefit this plugin has is its compatibility with other page builder plugins. It is compatible with WP Bakery, Gutenberg, ACF, etc.
Another reason to use this WordPress PDF creator is its ability to customize almost everything. From header to footer, from fonts to bullet icons, from page layout to download icon, we can customize so many things in this plugin that makes it special.
This WordPress PDF generator plugin helps you capture leads as well. Whenever a user enters the email to get the desired PDF, you get a new lead too. You can then send follow up messages and nurture that lead to moving it down in your sales funnel and qualify it.
Some more features are there like you can add custom CSS, customize content front, alter image scale ratio, and more.
his
Key Features
Cover Page Templates
We've added 4 new cover templates that can be customized as per admin's demand.
Default Templates
We added3 default templates for Post and Products.
Custom post types
It supports custom post types and print them in PDF.
Custom meta fields
It supports custom meta fields and print them in PDF.
Custom fonts
Feature to set Custom fonts for PDF.
Header
You can include header logo to pdf, Option to show site name, site description and site url.
WaterMark
Add watermark text and images to look PDF wonderful.
Different Font
Can customize fonts of header and content.
Featured Image
Can select to display featured Images.
PDF from Cache
Have ability to generate pdf from cache to reduce load from server and can schedule backup of cache if Your blog is not updating too frequently and many more options
Custom CSS
Can add custom style to post contents, mostly all css supported.
hishis
Email Mode
In email mode each pdf export link generate a popup window and visitor have to enter an email address to which the created PDF will be sent.
Cache supporting
It provides the functionality to deliver the cached PDF to decrease server memory usage if cache is availabe in the system.
Supports ACF, WP Bakery, Gutenberg
It is compatible with Advanced Custom Fields(ACF) and supports WP Bakery and Gutenberg.
Minimum Requirements
WordPress 4.0 or greater.
WooCommerce 2.6.0 or greater.
PHP version 5.5.6 or greater.
MySQL version 5.0 or greater.
Translation Ready
.po and .mo files included, for easy translation
Live Demo
Visit a demo to experience the powerful features of Plugin and explore.
Frontend demo Click here

Backend demo Click here

Q. How can i add the pdf button on a single-product page?
A. You need to follow this step to add PDF button on a single product page.
Wp Ultimate Pdf Generator -> POST META DETAILS tab -> select the post type and meta field and fill name of meta field and save the changes.
Q. This plugin will work with other themes which doesn't show full article on home page?
A. We generally fetch the article content from database, it does not depend on how much content is showing there. If the content is through meta fields then you have to select it from the settings as provided.
This plugin is not subjected to GDPR compliant as it does not store any sensitive data of a user. It only holds information related to software which is run by WordPress & WooCommerce of the holder.
Thank-you for your interest in WP Ultimate PDF Generator, Makewebbetter.
Changelog

17-10-2019- ver 1.0.7

New: Four predefined templates added for the cover page.
New: Users can upload their own created templates for the cover page.
New: Added options hide site URL, description, and name from the header.

04-05-2019- ver 1.0.6
-New : Add Cover page Feature In PDF
- New : Image watermark Feature
- Fix : Minor fixes in Post meta fields
- Fix : Post and Product Template

14.12.2018- ver 1.0.5 
-Fix : Minor fixes 
his
20.04.2018 - ver 1.0.4 
- New : Added custom footer feature

06.12.2017 - ver 1.0.3
- New : Compatibility with Divi Theme and Visual Composer Shortcodes Mapping.
- Fix : Bulk Export PDF Warning Messages.
- New : Added Licencing Panel.

02.09.2017 - ver 1.0.2
- New : Added 3 default templates for Post and Products.

17.08.2017 - ver 1.0.1
- Fix : On activation notice

4.06.2017 - ver 1.0.0
- Initial Release