WP Profile Builder
Get a bonus WordPress plugin with your purchase of WP Profile Builder
VISIT WEBSITE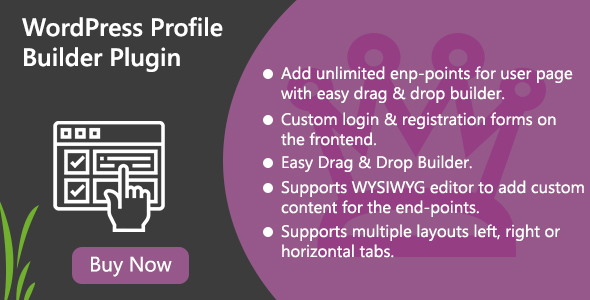 Create users profile easily with the WordPress Profile Builder plugin. The plugin provides features to build the users dashboard with easy drag & drop builder, add multiple end-points for the users dashboard, & allow users to upload custom avatar image. The users dashboard is designed with multiple layouts. The plugin also provides the custom login & registration forms on the dashboard for the guest users. Users can update their profile information on the dashboard on the frontend instead of the backend access.
Please check the WooCommerce Customize My Account Page Plugin to customize the my account page for WooCommerce.
Features Of Profile Builder Plugin
Drag & drop end-points builder for my account page.
Allow users upload custom avatar image for their profile.
Add internal website links, external links or custom endpoints with custom content editor.
Supports Wysiwyg editor to add custom endpoint.
Hide / show end-points for specific user roles.
Custom Login & registration forms.
Create custom end-points' slugs.
Drag & Drop Builder For End-points
Add multiple endpoints on the profile page, the plugin supports adding the external links, internal links & custom content endpoints. The custom content end-points supports Wysiwyg editor to add custom content with custom slug of the end-point.
Multiple Layouts
The users dashboard supports multiple layouts, the users can edit their profile information & upload custom avatar image without accessing the backend. Place the shortcode [wpb_profile_builder] on any page to show the users account page. The guest users will need to login or register before accessing the account page with the pre-build login & registration forms.
Custom Login & Registration Forms
Left Menu Layout
Right Menu Layout
Horizontal Tabbed Menu Layout