An introduction to WPForms
We love what the team behind WPForms have done by creating what is still the easiest to use form builder for WordPress. Now with their survey add-on it may just grab the title of best survey software for WordPress as will become clear as you follow the instructions below.
Specifically in this article we are going to discuss the possibilities to replace other survey marketing tools you might be using like SurveyMonkey with WPForms. However please note that the Basic plan of WPForms will not do as you need to be on their Pro plan (currently $199.50 per year here) to get access to the survey form add-on.
This is our first reason to go for WPForms over SurveyMonkey as it will cost you $384 per year (seen here) for a similar feature set as WPForms and you don't get all the other great form builder features of WPForms and convenience of WordPress dashboard which is not to be taken for granted as a website administrator. However lets take a look at a few more survey software alternatives to WPForms.
Best Survey Software Alternatives
SurveyMonkey
We have already discussed SurveyMonkey and mentioned their paid plans starting from $384 per year and many of you would have immediately thought, "But wait its free" and yes that is technically true but their free plan doesn't have same feature set as WPForms.
In SurveyMonkey's pros list it is
Free to a point
Easy to use
Comprehensive reporting
But in the cons column there are a few important notes:
Most businesses will want the advanced survey form features to get the best data to make informed decisions.
Customization of forms and survey templates is severely limited and will frustrate the marketing team or business owner implementing the survey as it won't match your brand which is important for the building of trust you need when performing a survey on your users.
Managed outside the WordPress dashboard
And let's now talk about Google Forms.
Google Forms
Google Forms is the better free survey software tool than SurveyMonkey as its 100% free to use with no upgrades needed to get the most out of it.
It is ideally suited to simple surveys but does have a great feature of requiring email addresses which can be a good way to grow your contact database.
The tool is accessible through your personal Gmail or professional GSuite account and allows for easy embedding of forms with a shortcode so ideally suited towards WordPress websites.
But with that said it does have a few of the same cons as SurveyMonkey.
Lack of customization of forms won't suit all brands
Not the most advanced feature set for creating in-depth surveys.
Managed outside the WordPress dashboard
So now that we have looked at arguably the two best alternatives to WPForms surveys let's get into the how-to portion of using WPForms survey features within WordPress.
How to use WPForms Survey Addon
So with that said once you have WPForms Pro you will need to visit the WPForms » Addons page and scroll down to the Surveys and Polls add-on. Once you have installed it, click on the 'Activate' button to start using the add-on.
Now you can create your first survey by visiting WPForms » Add New which then launches the WPForms' form builder interface with its usual easy to use drag and drop blocks.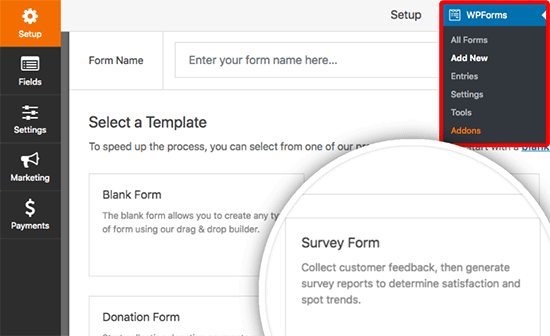 The first thing to do is to give your form a title with something that makes it easy to remember in future what this survey was testing. then click on the Survey Form template.
This will load a sample customer feedback form with several fields already added for you.
You can add new form fields from the left column and drag and drop all fields as you like in the order you like.
WPForms supports all commonly used form fields which makes it super easy for you to build highly interactive survey forms. It also has conditional logic which allows for personalization of the form based on how your user answers the previous question.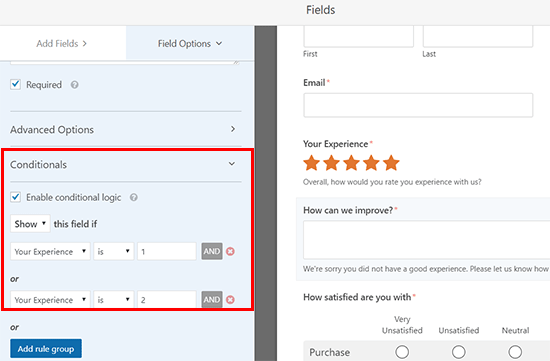 Once you have created the form, make sure to save your settings after which you can now close the form builder.
WPForms makes it easy to embed your forms on pages and posts through the WordPress editor where you will see a Gutenberg block or "Add form" button in the classic editor. Just click it and select the form you just created and voila your new form is live.
Viewing Your Survey Form Results
After your form is live you will want to see the results of your survey which WPForms presents in highly interactive charts and graphs which you can export to a spreadsheet or even print out for your next meeting.
To view your survey results, you need to visit WPForms » All Forms page and click on the 'Survey Results' link below your survey form.
On the results page, you will see your survey responses displayed in both a chart and tables. You can export responses to a single question, as well as the entire survey.